GENERAL POLICIES
BigJohnsonRacing is a slightly more than a hobby, and slightly less than a full time business. Since this is my shop, and there are no shareholders or a BOD to report too, I can run it how it best suits me to get the most done for the most people. That means several things to me that you may or may not appreciate depending upon your point of view, so please at least skim this page so you don't have to ask dumb questions later. Below are some quick links to the major sections of what might be called the the "Company Policies" or "Terms & Conditions" page depending upon how you got here.
[ pricing ] [ margins ] [ payment ] [ shipping ] [ returns ] [ info accuracy ] [ customer service ]
[ product support ] [ in stock ] [ international ] [ sponsorship ] [ 666 ] [ bottom line ]
[ Pricing ]
* All prices posted on the website (including shipping) reflect a 3% discount for cash, COD, Money Order/Cashiers Check or personal check payment. Don't get mad at me if you don't have any real money left and are spending beyond your means with a CC. I understand that is the "American Way" but the privilege to be able to do so also carries a cost unless you are in Congress, so, I'm not going to overcharge everyone else that has scrimped and saved for their toys just to be "fair". If you don't like that, complain to BO - maybe he will redistribute the results of some other persons hard work to you so that you don't have to do it the old fashioned way and earn it yourself.
* I run this "business" (such as it is) on very thin margins because providing the best deals I can to all Mac owners regardless of their affiliations is what I choose to do. That means that I'm not interested in any "biters" looking for a "special deal" just for them. I think ALL my deals are special.
* Please note that I do not give "in the trade" discounts nor do I have a "wholesale sheet" since I got tired of explaining to a certain someone on a regular basis why they didn't qualify for it, and I can't remember 2 pricing levels anyway. All products are sold for the minimum margin I will accept on them all the time, which basically equals "wholesale" to everyone. Prices go up and down as the price to me changes, and that may change at any time due to market conditions, exchange rates or my mood.
* Speaking of free - shipping is not a profit center here, all shipping quotes are charged at our cost. Due to that policy you may get your order in a reused box, or a UPS shipment might arrive in a USPS box that we get for free or some other appropriately priced shipping container I rescue from the dumpster. If you have a high value item that is getting shipped a great distance I may have the local professional packers make a box/fill it with foam or whatever to insure your part arrives undamaged. We will discuss the added cost for that ahead of time.
---
[ Margins ]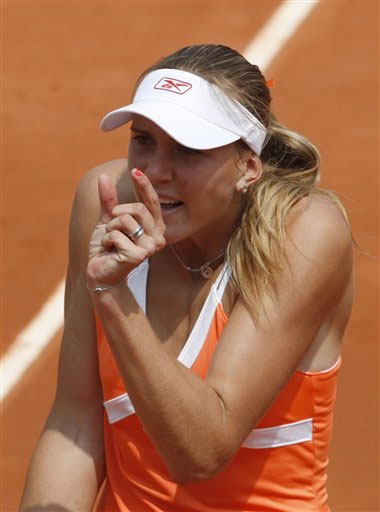 Our bookkeeper caught on camera making fun of my margins again.
[ Payment Methods ]
We have 8 payment options here at BigJohnsonRacing;
Unmarked cash in a brown paper bag
PayPal eCheck
PayPal Instant Transfer
Western Union
personal checks in the mail
money orders in the mail
UPS/COD
Credit Cards Through PayPal
I do not take Credit Cards directly or over the phone as I do not pay for a Merchant Account CC Processor but you can run them through PayPal on the internet just like you would at Amazon etc. (see below) I cannot bill your Credit Card nor can I charge your Credit Card nor can I credit your card back on a return through your Credit Card through PP unless that is what they do if you use a CC to pay. You can use your CC to pay for an order through PayPal however if I send you a "Request for Payment". I can just ask - you need to deliver. I might sell your CC number on the black market if you voluntarily send it to me but only if I'm in a bad mood that day

A note to "international customers" - (and that includes you Canadian guys & gals) ALL checks drawn on foreign banks, even those clearly marked as drawn on a "USD" or "US Dollar" account are being sent out by my bank "for collection". Besides the 3 weeks I get to wait for them to do that, they also charge me A $15.00 FEE FOR THE PRIVILEGE. I'm not interested unless you feel like paying the fee and waiting for the bank to credit me with the funds prior to me shipping the parts. (I didn't think so) A Canadian Postal Money Order is a much better option as the USPS will cash that. If you also have a US account at a bank here in the USA that's fine. If you do not, that leaves us with these options: Western Union, Canadian Postal Money Order in USD, bank transfer, or PayPal. Your call.
Cash:
Cash in a bag is pretty self explanatory - just don't print it yourself and don't send it in the mail unless you have lots of it to spare.
PayPal/Credit Cards:
You CAN use your Credit Card, CHECK CARD, or DEBIT card though PayPal if that is your pleasure. It is a safe and fast e-mail transfer of $ from anyone with an e-mail address to anyone else with one - pretty cool and it works internationally too - You can send and receive in Yen & Euros now - not that I want any, and is pretty instantaneous. I like it. They do charge me ~ a 3% fee domestically to accept your $ though, and that will be added back to the total amount of your order including tax [if applicable] and shipping - That means that the POSTED prices reflect a 3% discount for paying by check, money order or cash. I think I said that 2X already. The basic idea is that I net the minimum price I want for the parts which is what is posted on the site. I'm not interested in jacking all the prices up 3% to cover the portion of sales that come in through PayPal and then wank the people that pay by check. The other reason is that some of my margins are in the 5% range and I'm not planning on giving PayPal 60% of the gross profit. Besides, all the local Asian run computer stores do it.
Speaking of PayPal fees, if I receive a payment from a user in another country, an additional 1% "cross border fee" will be charged by PayPal. Clever of them. The cross border fee is an additional 1% for U.S. Dollar payments and they might add an additional 0.5% for Canadian Dollar, Euro, Pound Sterling, and Yen payments if they need to convert the funds for you, so pay in DOLLARS. That goes for everyone. Even you Canadians.
PayPal says:
"If the transaction involves a currency conversion, it will be completed at a retail foreign exchange rate determined by PayPal, which is adjusted regularly based on market conditions. This exchange rate includes a spread above the wholesale exchange rate at which PayPal obtains foreign currency, and the spread is retained by PayPal. The specific exchange rate that applies to your multiple currency transaction will be displayed at the time of the transaction."

Have you noticed that PayPal gets you coming and going? Clever of them. I guess that is why eBay bought them.
Don't want to use a credit card but have a PayPal account? Here's what PayPal has to say about their eCheck option:
"This eCheck payment will remain "Uncleared" until the funds have cleared from the sender's account, which usually takes 3-4 business days for US accounts and 7-9 business days for International accounts. If you are shipping an item, please do not ship your item until the funds have cleared into your PayPal account. You will be notified by email when the funds have cleared into your PayPal balance."

The "echeck" option is cheaper but takes longer - how much longer?

Why does it take so long for my recipient's account balance to reflect my eCheck payment?

It can take several business days for your eCheck transfer to complete and the recipient can use the funds from your payment. Here are estimates based on which country your bank account is from.

U.S. - up to 4 business days
Canada - up to 8 business days
UK - up to 9 working days
Australia - 7-8 working days

Your eCheck payment does not appear in your recipient's balance until the transfer is complete.

You may notice that the $ disappears from your account right away and wonder where it is. I really don't know, but I don't see it until PayPal decides that I can have it. So you trade saving money for taking more time - your call. Please note that once you initiate an e-check transfer and find out that you can't get the parts tomorrow - don't cry - you should know that before you push the button. So, if you want the parts sooner than that we would need to cancel the e-check and have you send a regular "instant transfer" payment. We can do that at anytime without any additional cost to you. Speaking of costs, PLEASE do not select eCheck on check out and then pay via CC or instant transfer. I know that some of you are clever enough to try that, and it will just delay shipping your order while I send you a request for the correct amount etc.
If you have never heard of PayPal check them out.
Remembers that the POSTED prices reflect a 3% discount for paying by check, money order or cash. I think I said that 2X already. The basic idea is that I net the minimum price I want for the parts which is what is posted on the site. I'm not interested in jacking all the prices up 3% to cover the portion of sales that come in through Credit Cards / PayPal etc and then wank the people that pay by check. The other reason is that some of my margins are in the 5% range and I'm not planning on giving Google 60% of the gross profit as their stock price is high enough already. Besides, all the local Asian run computer stores do it.
Legacy Checks & Money Orders:
I still take personal checks (although my analyst wonders why) printed on paper that arrive in the mailbox but if I don't know you or the amount is more than I'm willing to lose that week, I may let the bank place a hold it until it is officially cleared before shipping your parts. Postal Money Orders or bank checks remove that quarantine period.
COD:
Currently COD items are only shipped via UPS as they are across the street. This normally works fine as long as you are around to receive the package or DO NOT use a PO Box for your shipping address - UPS DOES NOT DELIVER TO A PO BOX. There is a $13.70 check collection and processing fee that UPS adds to the base charge for shipping. Please note that most of the shipping charges listed on the website are for shipping via Priority Mail, which takes only 2-3 days. UPS Ground is the default shipping choice for COD items. If you want it to cost more and get there faster, ask. If you ask me to send you an order that costs $375.00 via UPS/COD/overnight and the shipping turns out to be $275.00 when I get to the UPS counter I may send it ground anyway to cover my bets in case you change your mind when you find out that the shipping was "THAT MUCH!" and then change your mind about accepting the COD - so I get stuck with the part being returned and paying the shipping for you.. (this has happened - it will not happen again)
When you choose COD on your order checkout this means that it will shipped via UPS and priced by actual weight or size for larger boxes and have the $13.70 UPS COD fee added to the over the counter shipping rate.
Did I need to say that 3X? (yes)
I CANNOT SHIP COD INTERNATIONALLY. (yes, Canada is "international")
Also, please don't whine about having to get a Money Order or certified check for a "COD". What does COD stand for? Well it used to stand for actual "CASH On Delivery". UPS does not accept actual cash anymore due to drivers having guns poked in their noses. It does not stand for "a personal check that may or may not clear on delivery and subsequent 2-3 week transit time from UPS to Big Johnson Racing". Not interested.
In summary, wherever you see COD, replace it with MOOD (Money Order On Delivery).
Bank Transfer:
Contact Mark for bank transfer information.
Our banks wire acceptance fee is $10.00 now for both domestic and International wires. Please add that to the total $ that you send. Please be clear to your bank that the total you give them to send is the total that is supposed to arrive in my account NET OF ALL FEES that they or any intermediary banks might tag them for along the way. ACH transfers are free of fees at our end if you can figure out how to do it.
Western Union:
Pay via their website if possible. Payments over $500 may require a trip to your local Western Union office. Make sure to send the transaction number to ME, and make it payable to Big Johnson Racing/Mark Johnson.
---
[ Shipping ]
Priority Mail
*
Typically if you see a shipping price listed online for your part that means it will ship Priority Mail or UPS ground. Priority Mail is normally how I ship everything small or boxes UNDER 4lbs. unless you request otherwise or I think UPS might be less expensive. Please remember that Priority Mail DOES NOT have tracking, only Delivery Confirmation. If tracking is more important to you than speed or price say so and I'll send it UPS.
UPS
*
When you see SHIPPING WILL BE ADDED on your order this indicates that it will shipped via UPS and priced by actual weight and/or size for the larger boxes or for several items shipped together in the same box. International shipments and larger boxes like body kit items will usually save $ by going through BAX Global.
For example: You might have ordered 3 parts that have a $6 shipping cost each if purchased individually and 2 parts that have "Shipping will be added" as their shipping cost. What does that mean? It means that whatever the actual shipping will be after the parts are all in a box is what you will be charged. Sometimes the $18 you already paid for the three parts that had a shipping cost linked to them in the database will cover it; other times it will be too much and you will get a refund, or it might not be enough, in which case you will get a request for the NET shipping due through our friends at PayPal after the $18 is deducted from the total shipping cost. If this is not clear as the alpine sky at noon in the summer, ask.
Taking that paragraph above a tad further, occasionally some of you will order several parts that have a $6 shipping cost each and wonder why (if all three could potentially fit in the same small $6 box) that the website charges you for the shipping due on each item separately. Well, it does it because it is a website and not a person, and it needs to be programmed to assume something so it is programmed to assume that each item is a separate item shipped separately as that does happen several times a week. Depending on what combination of parts that is ordered (see example above) what you prepaid for shipping may or may not cover everything that you order if the parts with "will be added or quoted" in the shipping data field are heavy or large.
When you choose COD on your order checkout this means that it will shipped via UPS and priced by actual weight or size for larger boxes and have the $13.70 UPS COD fee added to the shipping. I CANNOT SHIP COD INTERNATIONALLY. (yes, Canada is "international")
* These are the methods I use to ship everything unless you request otherwise [ see cavity below ].
If you buy items normally shipped by Priority Mail that show shipping on your order but you choose COD when checking out, the shipping amount WILL CHANGE more or less as this becomes a UPS order.
Overnight / Faster Shipping Options
We do not list an "overnight" or an "Express" option in the database - if you actually need it yesterday try ordering it the day beore that or stick that request in the comments box on the order form and depending upon when I see it, I'll do my best to get it there for you. However, do not send me 6 "I need it yesterday" emails in a row and then not look at the computer for the rest of the day.
International Shipping
We ship our parts ANYWHERE there are McLaren's.
For the 3rd time; I CANNOT SHIP COD INTERNATIONALLY. (yes, Canada is "international")
Billing to your own UPS/DHL/Fed Ex/Airborne account number might work best for this as there is no delay with us discussing costs prior to the parts leaving and also could turn out to be the cheapest way to go since you might get the "business" to pay for it. We have had good luck shipping internationally via DBSchenker, and they are quick too! (typically 5 days) but you might have to clear it through Customs yourself. Fed Ex Freight is a good deal for door to door residential deliveries. Remember that while DHL is no longer in the US ground shipping business, they DO still go International.
The shipping prices listed on the website are for domestic shipping via Priority Mail or UPS ground shipping only. Overseas shipping options will be discussed and paid for PRIOR to shipping your order AND WILL BE MORE THAN INDICATED ON YOUR ORDER.
Another recap for those of you with ADD:
INTERNATIONAL SHIPPING CHARGES WILL APPLY to your order if you do not live in the CONTINENTAL USA. All shipping charges listed on the website are for domestic U.S. shipping. Shipping charges to ANY country on the planet other than the U.S.A. (yes, Canada is still a separate country) may be more than the shipping total listed in your order.. You will be contacted if this applies to you BEFORE anything ships, so please do not act surprised.
[ return to top ]
---
A midcourse summery
To reiterate, my normal policy regarding personal checks is to wait until the check clears before shipping. Personal checks might take 5-10 days to clear. If I know you I might not wait. If you are my pal I might just ship it when you order it and wait for the check to come in the mail. Western Union, Cashier's Checks, Money Orders, Bank Transfers, and PayPal transfers will ship the same day payment is received unless it is too late in the day and I'm in line at UPS already or it is Sunday or unless I am out of stock on that item when your $ actually arrives. [all "in stock" parts are subject to prior sale unless we agreed that I'd put one aside for you] If you order it in June and forget to pay for it until August don't expect me to ship it the next day - I might have sold it 3X already.
Shipping options are listed in the shipping section. If you need it shipped faster than the default method, please ask, we can figure it out. I am not responsible for damage or loss of item(s) once shipped as that is the carriers fault. Full insurance is applied to all shipments sent by UPS. Express Mail has a default level off $100.00 insurance. International customers that want to defraud their governments out of their confiscatory import tax may what to leave it at that level. International Customers Please note: You cannot insure the parts for more than the stated value, so if you are planning on chiseling your government on the stated value for figuring the applicable taxes or duty etc. then be prepared to only have that amount be available for claim in the event of loss or damage.
If the package arrives looking like it was a test case for the International Soccer Free Kick Championship please check the contents of the package in the presence of the delivering driver for any possible missing items or damage and make sure he writes it ALL down. If possible take a picture.
I normally ship to the address you enter on the order form - if you have a good reason not to want me to do that, make sure that I know that, and have told you that I know that so that your parts are not shipped to your vacation home that you will not be at for 6 months, (it has happened) or to somewhere where your wife will find out etc.
I cannot ship COD, or UPS to a PO BOX.
Special order items like wheel sizes not in stock may take up to 12-18 weeks to arrive once the order has been placed, and some items WILL take longer depending upon the phases of the sun spot cycle as that appears to influence the land of the rising sun. Most of the time, if you paid for it and I have it in stock it will go out the door right away. However, sometimes the shipping lead times may be longer to circumstances beyond my control. (like the week we had an under the slab leak in the office)
Finally and most importantly, make sure that the e-mail address that you give me actually works. I am not going to make a $5.00 phone call on a $5.00 part where my margin is $0.50 if you didn't fill in a complete address or asked me to ship COD to a PO Box etc. I'll just sit here and wait for you to complain about it not arriving.
FURTHER more, I reserve the right to refuse orders from anyone, and that could potentially include you if you irritate me. Please attempt to be at least superficially nice and aware that everything may not go your way in terms of parts fitting without some fiddling or fit your time frame for shipping, or be sold at the price that you think I should charge you due to your imagined special status. If you flame me on some forum somewhere that I do not frequesnt that's your right since we live in the land of the 1st amendment. However, do not turn around a month later and order something and expect me to do more than laugh at you.
I normally have between 3-8 new orders coming in every day, 7 days a week, 52 weeks a year, and that means that other customer orders are coming in at the same time as yours, and they may also feel like I should be giving them my undivided attention. [Visualize several people that both want the same room at the Inn at the same time - it is not going to happen] If you feel the need to vent your spleen to me or all over the net, feel free - that is what the Bill Of Rights is all about - just don't be surprised when your future orders are deleted and your e-mails go unanswered. Life is too short and I have too much to do for far too many people to put up with any shit so don't go there.

Things will get done as soon as they can given the current situation - whatever that is at any given time.
Orders will ONLY be processed once the payment has been received unless I know you are good for it. PERIOD.
My normal policy regarding personal checks is to wait until the check clears before shipping. Personal checks might take 10 business days to clear depending upon the polices of the bank you use. If I know you, and have had prior good luck getting you to pay for your goodies I might not wait, however, I have been surprised before so it depends upon my mood. Cashier's Checks, Money Orders, Bank Transfers, and PayPal transfers will speed up my shipping your parts. Credit Card orders can only be placed through PayPal at this time - please see the posted pricing policy on this. Product and shipping prices do change and are updated as soon as I can get to it. Normally you will only pay whatever it says on the website at the time you ordered [typos not included] unless you ordered last year and don't actually get around to paying for it until this week.
I am responsible for typo type errors in the posted prices, as both the webguy and I have been known to work late and spEel porley; but I'll give you the option to go forward or not after I figure out what happened if a price is posted incorrectly.
If there is an error we will notify you and might ask that you resubmit the order if you still want to get the part once the price has been updated, or I might edit it for you and e-mail you a copy. For International orders PayPal or wire transfers or certified checks in USD work best. All wire transfers have an additional fee of $10-30 added to process the order. [the bank charges me this fee to process the wire] The check denomination must clearly be PRINTED on the check in U.S. Dollars - you Canadian hoser guys PLEASE take note - just because it says "dollars" on it does not mean US DOLLARS to the bank. No handwritten notes in the corner either. The bank assumes it is Canadian dollars and they get "sent out for collection" and that takes forever. Some of you guys in Miami like to send me wads of cash in Fed Ex envelopes - lets not do that anymore, the terrorism thing is making everyone trigger happy.
If you have made it this far and think I'm a dick, check out this guy's terms, or click here.
[ return to top ]
---
[ Returns ]
If you thought you wanted it at 2:15am and now you don't like it - that is not my problem.
If your best friend convinced you to buy it and now you don't like it - that is not my problem.
If someone you never met posted in some Forum somewhere that this part is "the killer setup" and it does not work for you - that is not my problem.
If you ordered the wrong part and it does not fit correctly - that is not my problem.
That said; I will be happy to take returns as long as:
The part(s) have not been installed already (unless that was our prior arrangement) and the item is still in a condition that your best friend that also drives a Mclaren and wins all the local concourse events would be happy to buy it - otherwise that is not fair to the next customer and not fair to me either. Would you like it if you got a "used" or "test fitted" part in the mail? I doubt it. Neither will the next guy. You might use it as a wall ornament in the garage - it may grow on you.
I sent you the wrong part. (I think this happened once last year)
We discuss the why it is coming back before you send it and agree that it ought too.
Restocking fees
"Restocking fees" are just the industries way of trying to make it too painful to send back stuff so you won't bother. Personally, I think that is crap. If you meet the conditions above, you will get 100% of your $ spent for parts refunded. If you don't you get to keep the part. Shipping is not refundable unless the reason for the return is #2.
** If you installed it and you broke it - that is not the parts fault ~ 99% of the time. Take your time, ask questions, read the installation manual provided in our library, or if the situation has progressed past where reading them might save you have the car towed to the dealer.
*** Please make sure that you only order what you want and know that it fits your car, your style of driving etc. before you hit the "I gotta have it" button. Just because it is the local "hot setup" or on one of my cars does not mean that it is right for you - What you read in the various Forums means nothing except that a particular setup in a particular car for that particular driver worked for him - that is all it means - it does not mean it is the setup for you. I am always happy to take time to explore the options with you, and if I don't know the answer someone else usually does. However, the suitability of any of the parts I have posted on the site to fulfill the use you have envisioned for them is your responsibility to determine BEFORE you buy.
Assuming you make it through the gauntlet - send your parts here:
Mark Johnson - Big Johnson Racing
#103
1611-A S. Melrose Drive
Vista, CA 92081
**** Shipping is not refundable.
***** While we're on shipping ...
Shipping Damage:
If the packaging appears damaged on the outside, please refuse to accept it from the carrier; or please make sure when signing the shipper's proof-of-delivery slip, you include a note stating the package is or appears damaged. If you do accept a damaged shipment, please inform us immediately. Depending on the product and where/how it was shipped, it may be necessary for you to deal with the carrier.
Also, if there was any internal (non-visible) damage, this will need to be reported to us and/or the carrier within two days of receiving the product.
DO NOT INSTALL PARTS DAMAGED FROM SHIPPING and then call me and ask me to fix it for you, scallywag.
[ return to top ]
---
[ Info on the website ]
Although we make every effort to assure that the prices, products and information are posted to the website as accurately as possible, we are only human, and in the event a human style error is made, we reserve the right to correct it and flog the webguy, putting him on decaf for his typos and other transgressions.
[ return to top ]
---
[ Customer Service ]
Product support
Most parts we ship have installation instructions or at least hints for their suggested use posted online in the Big Johnson Racing Reference Library.
If it is a Big Johnson Racing Part and there is an install guide posted for it, it is listed here: INSTALL YOUR BIG JOHNSON RACING PARTS.
If it is an aftermarket part or service procedure and there is an install guide posted for it, it is listed here: DIY Section.
If you look at the reference links above and don't find what you are looking for - ie you are clueless - ask, perhaps I can direct you to the appropriate section. If you bought it someplace else - ask them for support.
Filling orders
* I will make every effort to fill your order with the correct parts for your application at the best price possible and with good humor ASAP. What does ASAP mean? It doesn't mean yesterday, it means AS SOON AS POSSIBLE! However, that said, please remember these 3 things before you go off on a tirade if the part does not arrive before you finish typing in your order.
1) I may have more than one customer to attend to at the same time. (you would be amazed how many people do not consider this)
2) There is only one of me and unfortunately I am a humanoid, subject to the frailties of the species.
3) I might be out of town or the order system might have had a hiccup and I am unaware of your order.
Answering e-mails and phone calls
*I am not in the office chained to the computer 24 hours a day like some of you appear to be - if I was, nothing would get made or shipped. I usually get 100+ e-mails a day, and not all of them are immediately replied too based on what ever else is happening, or the phase of the moon or whatever. If I get half way though it and have to leave and it ends up in the draft folder it might stay there for a few days if I forget. Using the same e-mail address each time you write me *really helps* - I am convinced that some of you change them daily just to keep me off balance.
*Due to the insanely large volume of e-mail I receive, PLEASE include previous e-mail messages when responding. This will allow me to read the complete dialog in one message and will result in quicker responses.
*Regarding Phone Calls: Don't bother calling unless you have the cell number, because I do not have a real office with a real secretary. Also - I am in the process of changing the cell number since too many people now have the old one.
CRM Highlights
But I don't like it/it isn't what my pal told me it would be/my GF thinks it is too loud/rides too rough etc and I want to return it for a full refund including shipping both ways even though I installed it myself and fucked it up in the process and used it for 3 weeks.
I know you don't stock these and that you special ordered it for me and you paid for it already/have to pay for it anyway when it comes in but I'm: tired of waiting/changed my mind/got some from a friend/sold my car and want a full refund even though I have not paid for it yet.
Ship it to me now and I'll pay you for it when I feel like it because you should be glad that you have the opportunity to be of service to the McLaren community.
Yes, I just checked the "I read them" check box on the checkout and didn't actually read the Terms and Conditions - who needs to do that? - they wouldn't apply to ME anyway. Take care of me now anyway or I'll…
I don't care if your prices are already lower than 98% of the other shops I that I could find on-line but don't actually have the parts in stock - I want it for less.
It doesn't matter that I make 200% margin on the parts that I sell you, when I buy something from you for my car I want you to sell it to me for less than your net cost so that I know you appreciate me.
I bought this last August (pick a date 8 months prior to whenever you read this) for my 300E because my friend who has an McLaren thought it might fit my car, but it didn't and now I want to return it.
I think you should make this part because I think I need it for my car. I just want to pay you the amount that I think it should cost for it - not what the actual time & materials costs to develop the part make it cost - you can recoup that from someone else.
"If you don't do it my way, I'm taking it to THE MANAGER!!!"
(I am "the manager")
Almost the bottom line:
Everybody's -special-, everybody wants an -IN-, everybody wants and expects a deal better than the last guy just because they are so COOL …

it won't happen here. I even have a special email address for those people that goes directly into the black hole.
[ return to top ]
---
[ Parts in stock (or not) ]
In the parts catalog you will see with every part listing an image of three LEDS, in the appropriate shades of RED-YELLOW-GREEN. Depending on which light is blinking indicates the approximate inventory of that part in the massive BJR Warehouse.
Red

= NONE in stock

Yellow

= A FEW in stock (grab 'em while you can) or some coming in soon.

Green

= LOTS in stock
* Some of my suppliers may tell me one thing which I may pass along to you, which may turn out be wishful thinking on their part or just plain BS. However it all works out - ALL parts whether in stock or on B/O - (back order) will be shipped out as soon as possible. I get so many e-mails that I do not have time to send you an update every other day as to the status of the product WE are waiting for. When it comes in, everyone that is in the same boat will get an e-mail letting them know that it is back in stock and giving them the option to complete the order or cancel. B/Os are filled in the order of the date placed.
[ return to top ]
---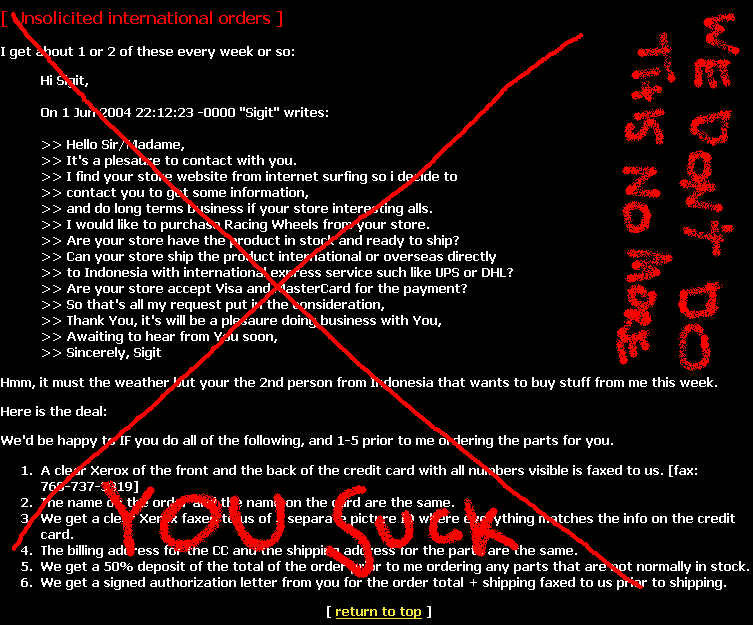 ---
I get requests all the time for "sponsorship" for show cars or for personal wishlists or team racing projects. The only companies that can afford to sponsor cars other than their own are ones that overcharge everyone else for what they sell. My advise? Get a job that allows you to support your habit. If you can't, find another habit.
or as Rush says:
"Learn to pay for it and that way you will know it was worth it."
[ return to top ]
---
[ 66.6 AMENDMENT ]
* 66.6 AMENDMENT. Big Johnson Racing may without advance notice amend this Agreement from time to time, and will do so by posting the new Agreement here on the Big Johnson Racing website in place of the old. Each and every such amendment shall be become effective immediately for all pre-existing and future accounts. It is your responsibility to periodically check the Big Johnson Racing website for updates of this Agreement or else you run the risk of becoming upset with yourself for your lack of foresight. If you are one of the many that just check the "I read them" checkbox on checkout without even skimming this page then don't come whining to me later about something you should already know.
[ return to top ]
---
[ The Disclaimer ]
"MP4-12C", "650S", "McLaren", "P1", and the Mclaren logos are registered trademarks of McLaren Automotive Co., Ltd. The representations expressed on this site are solely the representations and opinions of its owner or contributors. Material on this website does not necessarily reflect the opinions and viewpoints of McLaren Automotive Co., Ltd., and should not be construed as being endorsed by anyone at McLaren Automotive Co., Ltd. in any way for any purpose.
These statements contained herein have not been evaluated by anyone. These products are not intended to diagnose, treat, cure or prevent any McLaren related phobia or disease, especially the dreaded Overweightitis. Information posted on this site is provided for informational, educational and entertainment purposes only. It is not meant to substitute for the advice provided by your spiritual consultant, local "Master Tech" or other credentialed car care professionals. The information contained herein should not be used for diagnosing or treating a mechanical problem or dysfunction other than the following: Poor braking, Poor handling, Poor acceleration, Lack of shininess, "Tin ear" syndrome, Turbo Ferrari Envy."
[ return to top ]
---
[ The Real Bottom Line ]
Here at Big Johnson Racing the customer is not always right no matter how they act and may in fact be suffering from "tunnel vision" brought on by having their heads up their ass. If you get in my face I will get right back in yours, or just ignore you for the rest of my life, whichever makes me feel better.
I also do not believe in making the sale at all costs - no individual sale is that important to me no matter what the dollar amount may be or whom the person may be (or think they are) "in the McLaren community". OK maybe for Ron Dennis but no one else. There are some customers that are too much hassle to deal with. I don't need to have everyone in the world love me to feel good about getting out of bed in the morning or preserve my self esteem. I will normally just tell you "I'll pass" and return your $ if I deem that to be the best course of action for me. My margins are too low and my blood pressure to high to make it worth it to me.. JMO of course, you may run YOUR shop differently, if you do, goodie for you, I'm happy for you, make sure you have health insurance.
If you think I am not attending you your needs fast enough to suit you it is usually due to the fact that I am currently attending to someone else who feels his needs are all important and all encompassing as well instead of you. Get over it. Please keep in mind that when I decide that the potential for pain is greater than the potential for a gain, however minuscule, you will be shown the proverbial door. Everything happens as fast as it can given the overall situation here. If that is not going to work for you, there are always other vendors that will promise more. Your call.
[ return to top ]
---